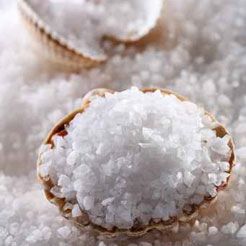 Dead Sea Salts contain 21 minerals including magnesium, calcium, sulfur, bromide, iodine, sodium, zinc and potassium. These essential minerals are lost throughout the day and as they naturally occur in our bodies they must be replenished. These minerals are known to treat, detoxify, and cleanse our bodies. Below are some of the healing properties of these minerals some common ailments that Dead Sea salt effectively treats:
Magnesium: Promotes quick healing of skin tissue and provides the skin's surface with anti-allergic elements. Also essential for cell metabolism.
Bromide: Soothes skin, relaxes body muscles, and calms nerves.
Iodine: Important for the correct functioning of the thyroid gland and is aids in the body's metabolic exchanges.
Sulfur: A natural disinfectant (constituent of certain vitamins). Known as a powerful detoxifying agent, as it works closely with the liver to rid the body of toxins.
Potassium: Great for people who suffer from asthma because it improves oxidation of the muscles of the nervous system.
Calcium: An essential mineral, known to strengthen bones and teeth. Also strengthens cell membranes and cleanses pores.
Sodium: Great for dry skin as it helps to allow moisture to be absorbed more easily
Zinc: Contains anti-oxidant properties which help to reduce the early signs of aging. It also helps to speed up the healing process.
All of these minerals combined help improve skin hydration and reduce inflammation. In addition, Dead Sea salt is considered a detoxifier.
5 ounces