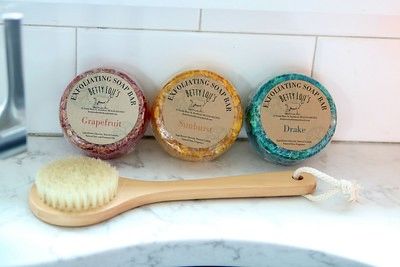 Handmade Natural Loofah Soap infused with Vitamin E

My natural loofah soap will leave your skin feeling soft, smooth and polished. It helps exfoliate away dry rough skin, and is great at keeping your feet and heels in tip top shape year-round!

This glycerin soap is infused with vitamin E and produces a creamy lather, leaving your skin feeling soft and moisturized. It contains no harsh detergents, parabens or sulfates and is safe for sensitive skin.

Some may find the loofah a little scrubby for the body at first. I have found the loofah softens after a few uses so be gentle at first.

Generously sized, it comes wrapped for freshness. It makes a wonderful and impressive gift for someone special or as a special treat for yourself!